We focus exclusively on the Westside and have been helping clients purchase new homes for two decades
Working as your advocates, and always in your best interest, we combine an extraordinary level of neighborhood knowledge with a better understanding of the value of condo and townhome properties in our communities.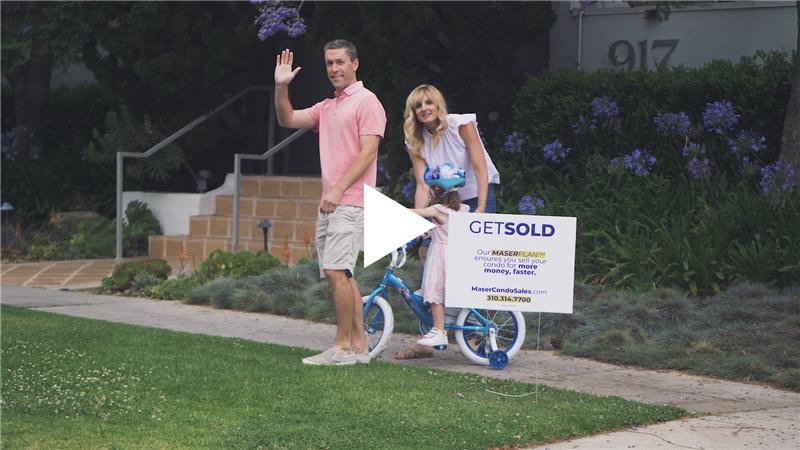 "Click on You Tube logo for closed captions"
We are Westside through and through. Voted most loved Santa Monica Realtor, it's clear our heart is here. We love our neighbors and small businesses and do everything we can to help foster a healthy and thriving community.
SANTAMONICA
Santa Monica neighborhoods Wilshire/Montana, Ocean Park, downtown, the Pico District, Sunset Park, Ocean Avenue and Wilshire Olympic have been our priority since day one. Nobody in Santa Monica will outperform the Maser team because we have a plan. Working as your advocates, and always in your best interest, we combine an extraordinary level of neighborhood knowledge with a better understanding of the value of condo and townhome properties in our community.
OCEANAVENUE
Ocean Avenue in Santa Monica, has everything you could possibly need and more to live a fulfilling, carefree, and brilliant existence. On one side of the avenue is an amazing white sandy beach and ocean horizon, while on the other is a variety of good shopping, fine dining, and laidback cafes. Ocean Avenue is right on the outskirts of L.A., which means the commute to work is neither long nor stressful, especially when you take into consideration the beautiful views.
OCEANPARK
The weather, proximity to the beach, and artsy/bohemian feel tend to attract a wide range of residents from students to families to young professionals. It hosts a plethora of amenities such as parks, Main Street coffee shops, bars, farmers market and restaurants. Ocean Park was established as its own distinct neighborhood, one of the oldest in the city. You will find some of the most distinctive architecture in the country full of eclectic styles that show strong Art Deco and modern influences.
WILSHIREMONTANA
North of Wilshire Boulevard in Santa Monica this community is quintessential California living; temperate, climate, ocean breezes, and sunny skies. Wilshire Montana condos provide world-class living found in other cities like San Francisco or New York City, but at a fraction of the price. With a wide range of shopping, fine dining, and cultural activities on chic Montana Avenue and a wealth of fitness clubs, yoga studios, bookstores and jogging areas as well.
SUNSETPARK
Sunset Park is composed primarily of single-family housing. Most of the homes are small one-story houses built in the 1940s for workers at the Douglas Aircraft Factory. Remodeled or rebuilt homes are upscale. Sunset Park is part of the Santa Monica-Malibu Unified School District. Will Rogers and Grant elementary schools and John Adams Middle School are located in the neighborhood. Santa Monica College is also located in Sunset Park.
WESTLA
With the 405 running through the neighborhood, the eastern and western sides offer condos. There is access to education, as the community boasts ten public schools and 15 private schools. The neighborhood has a combination of residential and commercial infrastructures ideal for smaller families. The nearby Stoner Park hosts events and activities year-round for residents of West Los Angeles condos, their friends, and families.
VENICEBEACH
Founded in 1905 as a seaside resort, the artsy and eclectic beach town of Venice has earned the label of ``a cultural hub known for its eccentricities.`` Famous for its beautiful beaches and the carnival-like atmosphere of its Ocean Front Walk, Venice is a pedestrian promenade 2.5-mile strip that is home to vendors, performers, mystics, and many assorted attractions. Its canals, designed to replicate Venice, Italy, are home to one of southern California's most interesting neighborhoods.
MARINADELREY
Marina del Rey is just four miles from the LAX. You will enjoy a warm climate year-round from the beach, where many water sport enthusiasts can windsurf, kayak, and sail. The famous marina is the largest man-made small-craft harbor in North America and boasts eight basins. Residents of the condo towers, marina townhomes and enjoy easy access to shopping venues and restaurants. Anyone who enjoys watersports and spending time on the Pacific will benefit from living near the marina.
DELREY
Del Rey is a safe, scenic and upscale beachside neighborhood that offers a vast assortment of dining, shopping, and entertainment. Del Rey real estate is hotter than ever. Walk to Hatchet Hall, Corner Door, Gingers, Detour, A-Frame, Tangaroa, and other café's. 5 minutes to Venice Beach, Abbot Kinney Blvd, Marina del Rey markets, Silicon Beach businesses, and more. Del Rey is the perfect neighborhood for young professionals, established executives and families.
PLAYAVISTA
When describing the neighborhood of Playa Vista, the Los Angeles Times explained that it is possible to live where you work, work where you live and, in your downtime, hang out at the park or catch a blockbuster film. Such a neighborhood is a welcome reprieve from the generally traffic-jammed, fast-paced environment. For this reason and countless others, such as its proximity to the beach, young professionals, executives, and families alike are looking to call this neighborhood home.
BRENTWOOD
For L.A. residents, Brentwood is synonymous with class, prestige and upscale living. Characterized by tree-lined streets, stately manors, chic boutiques, fine dining and various cultural centers, Brentwood is a neighborhood in which busy executives, young families and everyone in between aspire to call home. The Brentwood Farmers Market is a Sunday staple that brings the community together on a weekly basis. The Farmers Market offers your pick of fresh flowers, fruits and vegetables.
PLAYADELREY
Playa del Rey is southwest of Silicon Beach and located immediately north of LAX, providing easy access for Los Angeles residents who travel frequently and want to enjoy the slower pace of the amazing LA beach life style. This neighborhood is bordered by the Pacific Ocean to the west, Marina del Rey and Ballona Creek to the north, Ballona Wetlands and Playa Vista to the northeast, Westchester to the east, and Los Angeles International Airport and El Segundo to the south.
Brian Maser pioneered the town and condo focused agency while mentoring his coveted agents into lifelong real estate advisors for their clients.
Transforming a normally chaotic and emotional process into a step by step custom plan that maps out every detail from start to sold. Our MASERPLAN™ removes the triggers that make selling or buying a home frustrating and frankly maddening at times. All decisions are made in your best interest and we leave no stone unturned. We do the work to put your needs first and get you the optimal return faster than average. It works every time, because we have a plan.
$ 1,316,000
3D Walkthrough below Rare end-unit townhome with amazing views, light
[more]
$ 1,316,000
3D Walkthrough below Rare end-unit townhome with amazing views, light
[more]
16 DAYS TO SOLD
ON AVERAGE
Quite simply, Brian and his team are the best out there when it comes to understanding the Santa Monica/West LA micro-markets.
Brian Moore (Seller and Buyer)
Meet your new dashboard. Communication is key in any relationship and staying ahead of the game is what we do for you.
Not only do you get a step by step plan with most of the work done upfront to save time and frustrations, you also get a dail dashboard that keeps you aware of everything we are doing. See how many potential buyers saw your property, where they saw it. Find your daily or weekly to do's always keeping you ahead of the game. How many people saw your home on Zillow and Redfin. How may postcards were sent and how many photos viewed. Along with buyer comments, agent notes and more, everythign you need in one place served up in your inbox every day.
3% OVER ASKING
ON AVERAGE
Our seller centric strategy brings all buyers by making your home available to every broker in the world.
Your listing page includes a 3D virtual tour, walk-through video with your broker advisor, photos, and the listing details. We run a Westside digital and print ad campaign plus email and social. Custom postcards and personal invitations for neighbors. Zillow, Redfin, Trulia, The MLS, also list your home.