Let's first set up your "say hello" in-person or online listing appointment.
This is quick and efficient way for us to meet at your property or online (computer or phone) via Facetime / Zoom.  There is no pressure, no commitment needed, no hassle, no obligation and nothing to fear.
We are here to say hello and provide you true assessment of value.  Let's make sure you have all the information, so you can make smart future and financial plans.
IN PERSON: If you are comfortable with an in-person meeting, we come CovidSafe.  Mask (always), booties and gloves (if you want).  Some sellers just unlock the door and let us walk the property while they wait outside.  Then we can talk six feet apart outside or on the phone after the walkthrough.  Happy to follow what makes you the most comfortable.
ONLINE: If you want to do an online listing appointment, this can be super easy and fun as well.  Allows us to walk your property with you virtually (no need to clean up or dress up).   Just Zoom or FaceTime us from your phone, flip the screen and start from your front door.  Show us all the things you want, while we chat and guide you on what we would like to see.
Whether it be online or in-person, this is an important step for us to provide you will a true value opinion.  We are looking at all the details including, unit and building condition, upgrades, no upgrades, style, views, location in complex or on street, evaluating natural light, darkness, parking situation, type of windows, age of appliances, issues that can hurt value, what can be done to add value, what we would do to prep your property for sale, etc.
Click the MASERPLAN™ icons for detailed info about each step from Start to Sold.
We will discuss how your property currently compares to other units on the market.  We can show you online how you compare to what is on the market, in escrow and recently sold.
We will update you on current market conditions, walk you through our MaserPlan and help set up next steps your plan to sell faster for more OR just give you free "no hassle" appraisal value. Our job is to make this easy from start to sold.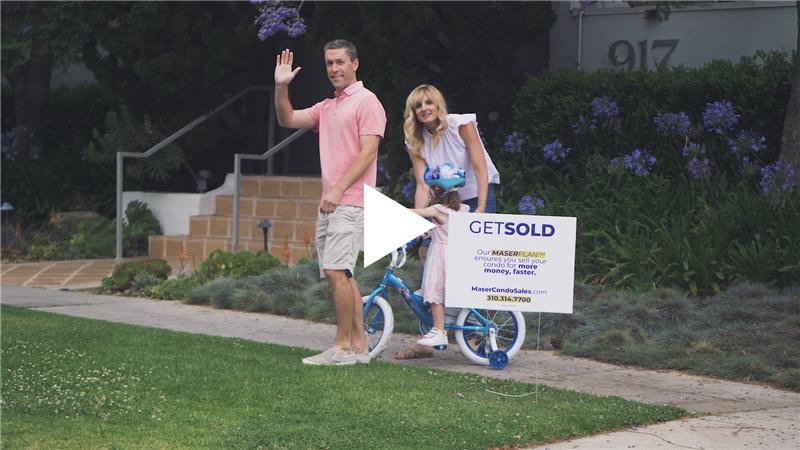 "Click on You Tube logo for closed captions"
Brian Maser pioneered the town and condo focused agency while mentoring his coveted agents into lifelong real estate advisors for their clients.
Transforming a normally chaotic and emotional process into a step by step custom plan that maps out every detail from start to sold. Our MASERPLAN™ removes the triggers that make selling or buying a home frustrating and frankly maddening at times. All decisions are made in your best interest and we leave no stone unturned. We do the work to put your needs first and get you the optimal return faster than average. It works every time, because we have a plan.
$ 1,780,000
508 Pier Ave #4
Do not miss the opportunity to own one of the most sought after, grand end unit, townhouses in prime Ocean Park, Santa Monica w/ b
...
$ 1,275,000
10739 Ashton Ave #105
We listed this property for a client that lives out of state.  We sold it in 21 days for $76,000 over asking. This is a record pri
...
$ 1,290,000
12815 Caswell Ave #5
 We listed this property at $929,000 to attract a lot of buyers. We had 25 offers and sold in 4 days for $361,000 above the askin
...
$ 863,500
1154 S Barrington Ave #315
DO NOT MISS this one of a kind Multi-Story PENTHOUSE in the heart of Brentwood! This top floor split level unit features a spaciou
...
16 DAYS TO SOLD
ON AVERAGE
I had a great experience working with Mike. He helped me sell a 2-bedroom condo and as a first-time seller I had lots of questions. He guided me through the whole process really smoothly and with a great attitude, including coordinating some pre-sale renovations. Highly recommended!
David Birdsell